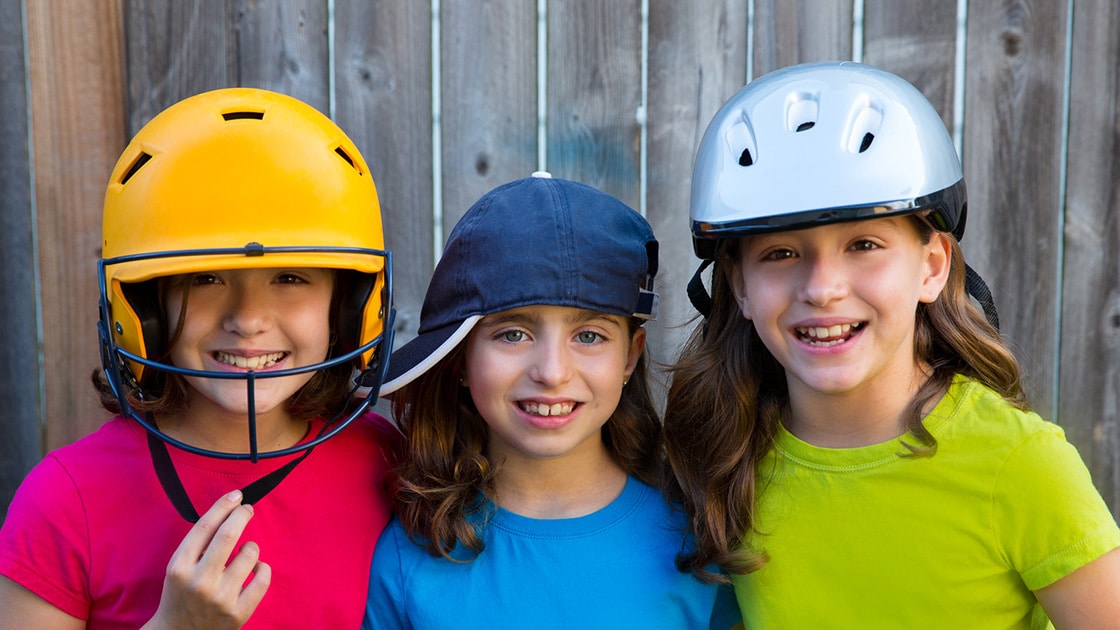 Pediatric Dental Care partners with parents to provide pediatric sports dentistry in Memphis, Tennessee. Call our office Kirby Center Cover
901-363-8192
and White Station
901-560-4386
today to schedule or
request an appointment
. If your child has a dental injury, call us immediately and we will see you as soon as possible.
What is Pediatric Sports Dentistry?
Sports dentistry is the prevention and treatment of dental injuries and related oral diseases. Children who play sports are at a higher risk of dental and oral injuries, no matter the degree of contact. It's important to protect your child's smile if he or she is an athlete, for aesthetic as well as health reasons. We provide equipment designed to help protect the teeth, mouth, jaw, and face of young athletes.
Benefits of Pediatric Sports Dentistry
Pediatric sports dentistry has many benefits: 
Prevent dental injuries. Of course, the best-case scenario is to prevent dental injuries from occurring. Custom-made sports mouthguards protect the teeth more effectively and fit more comfortably than store-bought mouthguards.

 

Treat dental injuries. In the unfortunate event that a dental injury occurs, a pediatric dental practice that provides sports dentistry has the expertise to treat the common dental injuries that occur with athletes.

 

Save teeth. When quick action is taken in the case of a dental injury, the tooth or teeth can often be saved and fully restored.

 
Pediatric Sports Services We Offer
We provide the following pediatric sports dentistry services: 
Custom sports mouthguards. We create custom sports mouthguards for a wide variety of sports. Made from impressions of your child's teeth, custom mouthguards fit comfortably and provide better quality protection.

 

Treatment for a knocked-out tooth. If a tooth gets knocked out, don't attempt to put it back. Avoid touching the root and put it in a cup of milk or saliva and bring it with you to our office. We may be able to re-implant the tooth successfully if we can treat you within 30 minutes of the incident.

 

Treatment for a displaced tooth. If a tooth gets knocked loose or out of place but still remains in the mouth, call us immediately. Don't attempt to move the tooth back to its original position.

 

Treatment for a chipped, cracked, or broken tooth. Call us right away if a tooth is chipped, cracked, or broken. The severity of the damage will determine the necessary treatment. In most cases, the tooth can be saved with prompt treatment.

 

Treatment for soft tissue injury. If an injury occurs to the lip, cheek, tongue, or gums, apply pressure to stop the bleeding. If bleeding continues or the cut is deep, call us for assistance. For severe, uncontrolled bleeding, proceed to the nearest emergency department.
Frequently Asked Questions About Pediatric Sports Dentistry

Why is it important to store a knocked-out tooth in milk or saliva?
When a tooth is dislodged from the mouth, it begins to dry out quickly. If it dries out it may not be viable to put it back in place. Milk and saliva are the best liquids to use to keep a tooth moist and prevent the roots from breaking down. Water is better than nothing, but it is the least effective storage liquid for a knocked-out tooth.
Is a chipped or cracked tooth urgent?
It may seem like a small chip or a crack in a tooth is nothing to worry about. However, depending on the depth of the damage, it may need immediate attention to prevent tooth infection or damage to the inside of the tooth.  The doctor on call can evaluate through tele-dental procedures.  This gets you immediate access to the doctor so we can care for your child.
Is a mouthguard needed for low-contact sports?
Even if the sport your child plays seems harmless, injuries can still occur. Just because a mouthguard isn't required, doesn't mean your child shouldn't wear one. A mouthguard can prevent a serious, painful injury. You only get one set of permanent teeth in your lifetime. Protect them so that they last.
Does a knocked-out baby tooth need treatment?

Even though a baby tooth will eventually fall out, if it gets knocked out accidentally before it is ready to be shed, it could be a problem. Call us to schedule an appointment so that we can evaluate the condition of the permanent tooth beneath it and make sure there was no damage. A space maintainer may be needed to hold the place open for the permanent tooth to come in when it is ready. 
If your child has a dental injury, call our office Kirby Center Cover
901-363-8192
and White Station
901-560-4386
immediately and we will see you as soon as possible.