Importance of Baby Teeth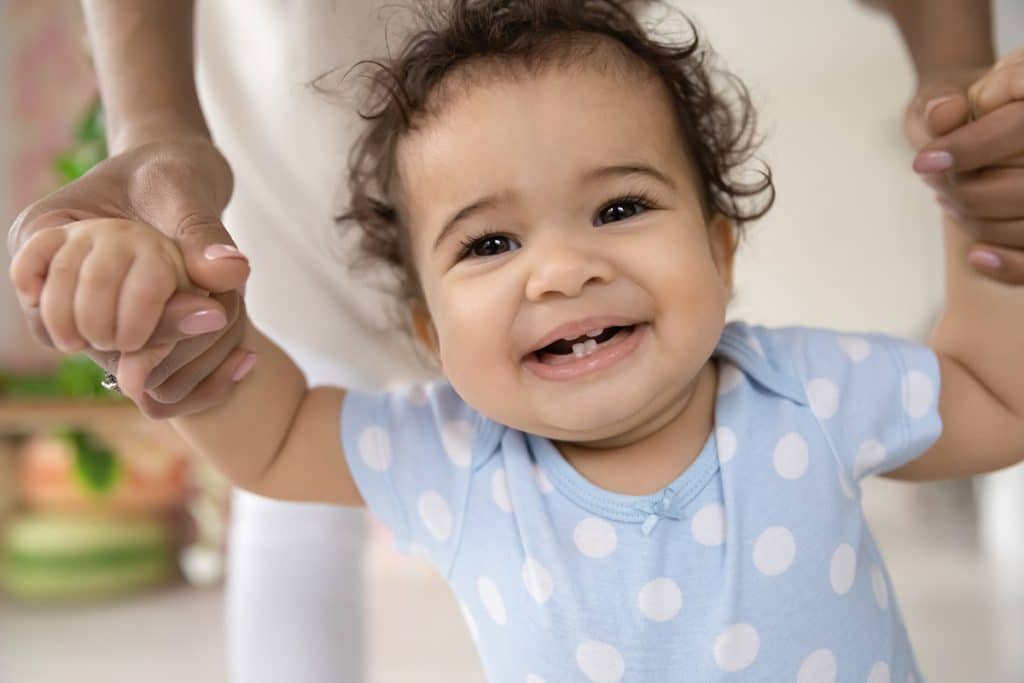 Just because your child's primary teeth, often known as "baby teeth," eventually fall out, doesn't mean they're not important. Baby teeth play a crucial role in your child's overall health, development, and well-being. 
Most children have a full set of baby teeth by the time they are two years old.  The baby teeth are exfoliated (come out) in stages.  The first stage usually begins between the ages of 5 and 6 (give or take 6-12 months) and lasts till about the ages of 8 or 9.  During the first stage, the child will lose his front 8 teeth.  4 on the bottom and 4 on the top.  The second stage usually lasts between the ages of 9 and 12 (give or take 6-12 months).  During these stages, your child will experience some discomfort/irritation and growing pains which is all very normal.  
Much like your own permanent teeth, your child's baby teeth require professional and at-home dental care. Decay can happen at any age, so it's time to visit the dentist within six months of your child's first tooth appearing or by their first birthday, whichever comes first. In addition to checking for tooth decay and other pediatric dental problems, we will show you the best ways to teach good oral health habits that lead to a lifetime of healthy teeth. 
Benefits of Maintaining Healthy Baby Teeth 
Maintaining healthy baby teeth offers the following benefits: 
Promote good nutrition through proper chewing.

Assist in speech development.

Build self-esteem by providing a beautiful smile.

Enable the child to pay attention and learn in school without the distraction of dental pain.

Provide a path for permanent teeth to follow when they are ready to erupt.
Potential Dental Concerns For Baby Teeth
Baby teeth are susceptible to decay and may develop cavities just like adult teeth. In addition to the pain caused by a cavity, young children can develop dental infections.  Baby tooth decay is a serious, infectious, and transmissible disease that can spread quickly and lead to infection or abscess when left untreated. This can be especially harmful to children because their immune systems aren't fully developed.
If a tooth becomes infected and needs to be extracted, your dentist may recommend inserting a space maintainer. If the space is not preserved, other teeth may drift, causing crowding and other orthodontic problems when permanent teeth come in.
Teaching and Modeling Healthy Habits 
The most important aspect of taking care of your child's primary teeth is setting a positive example from an early age. Your child should develop the habit of brushing (at least twice daily, in the morning after breakfast and at night before bedtime) and flossing daily (at least once a day at bedtime) that will carry into adulthood. Healthy teeth also lead to more positive experiences at the pediatric dental office, helping your child establish a healthy view of dental care. 
Frequently Asked Questions About Baby Teeth
How often should children brush and floss their teeth?
We recommend brushing at least twice a day and flossing once a day for best results. If your child has a tendency to develop cavities, it may be helpful to brush more frequently, such as after every meal. Begin brushing your baby's teeth as soon as a tooth erupts. It is also important to clean your baby's gums with a soft cloth or an infant toothbrush. 
What is baby bottle tooth decay (early childhood caries)?
Baby bottle tooth decay can occur when babies are allowed to constantly drink from a bottle or cup (especially at night) or nurse on demand. This causes the teeth to be repeatedly exposed to sugar that clings to the teeth and feeds bacteria in the mouth, leading to early childhood tooth decay. To prevent baby bottle tooth decay, don't put your baby in their crib or bed with a bottle or cup. If nursing, try to avoid nursing during the night but if you must try and wipe the teeth with a washcloth afterwards. Do your best to have specific feeding times and encourage your baby to finish their bottle or cup in one sitting. Allow a few hours to pass between bottles to give the teeth time to recover. 
When should my baby's first tooth come in?
The average age for an infant's first tooth to erupt is between the age of 6 and 12 months. Some babies will get teeth earlier, and others later. If your child still has no teeth showing above the gums by 18 months, let us know so we can schedule an evaluation. Delayed tooth eruption is not necessarily a concern, but it is always a good idea to have a professional assessment. 
When do baby teeth fall out?
The average age for loss of the first tooth is between 5 and 7 years old. The first tooth to be shed is usually one of the front teeth on the bottom row because it is typically the first tooth to erupt in infancy. Most children will have shed all of their baby teeth by the age of 12. 
To learn more, call 901-363-8192 today to schedule or request an appointment with Pediatric Dental Care in Memphis, TN. 
Recent Posts
Contact Us
Pediatric Dental Care of Memphis
6611 Kirby Center Cove
Memphis, TN 38115
717 S White Station Rd #7
Memphis, TN 38117