How Often Do Kids Need Fluoride Treatment?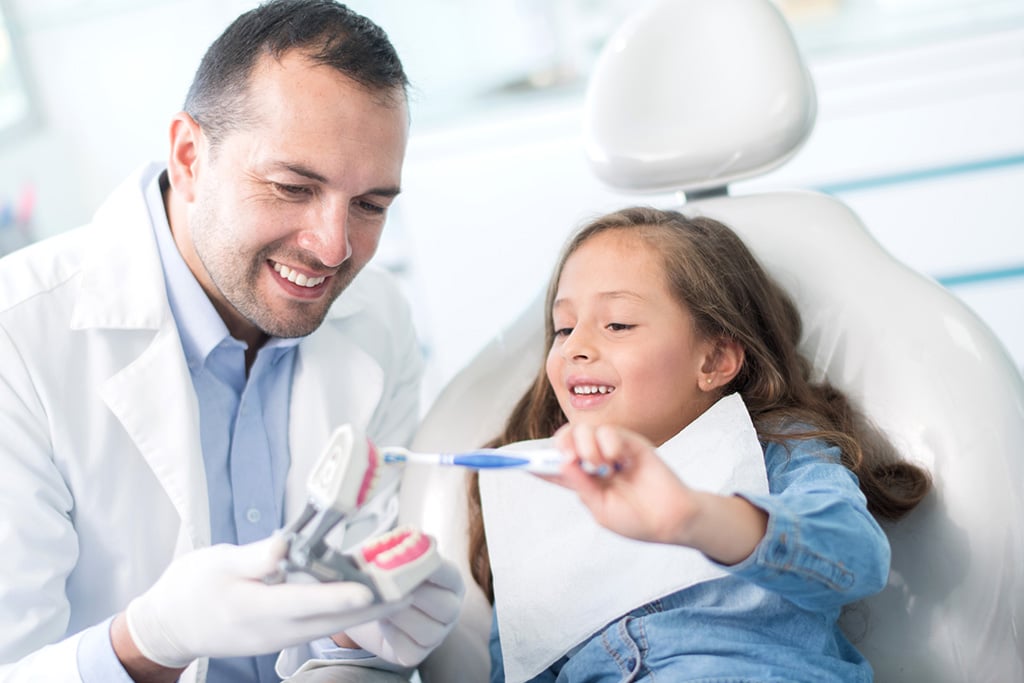 It is so important to give every child the opportunity to build a solid foundation for their oral health. Teaching them proper ways of brushing and flossing, as well as visiting the dentist routinely for cleanings are all important. 
But did you know that fluoride treatment can also play a significant role in strengthening teeth and preventing decay? Here is everything you need to know about it – including how often kids need fluoride treatment. 
Why is Fluoride Important for Oral Health? 
Fluoride has proven itself to be a fighter against tooth decay. If used as part of preventative care for teeth, it can reduce the chance of cavities. Fluoride is a mineral that can actually cause remineralization and build up weakened teeth. In other words, it makes them stronger and tougher — greater strength against dangerous bacteria.  We like to call fluoride "tooth vitamins." 
When kids have one tooth that is suffering from tooth decay, it can easily spread to additional teeth. As a result, many teeth are in jeopardy of cavities. It doesn't matter whether they are baby teeth or permanent teeth, they need to be cared for properly so that your child has the best chance of a healthy mouth. 
While all fluoride treatments help to yield the same result, they can be administered in a few different ways, including gel, foam, or varnish form that can be applied to the teeth. There is usually no difference between each method, rather just a preference on behalf of the dentist. 
Benefits of Fluoride Treatment
As if strong teeth weren't beneficial enough, here are a few more perks that kids get from routine fluoride treatments: 
Reduces tooth sensitivity

Protects enamel from breaking down

Adds minerals back to the teeth

Prevents tooth decay and cavities

It is natural
Perhaps one of the greatest benefits of fluoride treatment is that it will save you money down the road. You will reduce the need for complex dental procedures as the teeth will be healthy and strong. 
When Should Kids Start Getting Fluoride Treatment? 
Fluoride treatment can be used by patients of any age. However, according to the American Academy of Pediatric Dentistry, all children from 6 months of age to 16 years of age should include fluoride treatments as part of their preventative care. 
How Often Do Kids Need Fluoride Treatment? 
The American Academy of Pediatric Dentistry makes another recommendation that children get fluoride in some form every day. It can be found in toothpaste and certain kid-friendly mouthwash. Many cities and municipalities even put fluoride in tap water. 
As for fluoride treatments offered by your child's dentist — it is recommended that young patients have one every 3 to 6 months. Of course, this frequency will depend on their risk for cavities and will be included as part of a personal treatment plan. 
Protect Your Child's Oral Health with Fluoride Treatment
At Pediatric Dental Care of Memphis, we take every step we can to provide our little patients with the best oral health. That's why we choose to offer fluoride treatment as one of our preventative options. 
To learn more or to get started, contact us today at one of our convenient locations:
Or, request an appointment online. 
Recent Posts
Contact Us
Pediatric Dental Care of Memphis
6611 Kirby Center Cove
Memphis, TN 38115
717 S White Station Rd #7
Memphis, TN 38117