Is It OK for Kids To Swallow Fluoride-Free Toothpaste?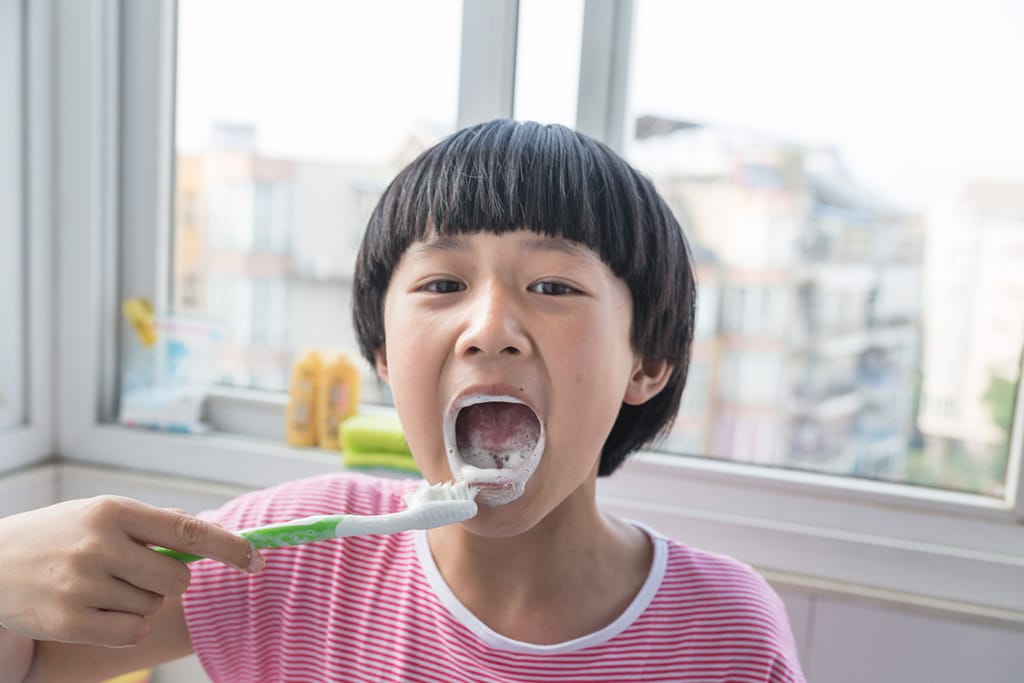 Teaching kids how to brush while introducing toothpaste is always a fun, but challenging time. Parents often find that young ones tend to swallow more toothpaste than they spit out. Nonetheless, brushing teeth is a vital part of any oral health routine so it needs to be done routinely. 
Is it OK for kids to swallow fluoride-free toothpaste? How can you ensure they get the benefit of the toothpaste without ingesting it? How much toothpaste is too much? 
Why Your Kids Shouldn't Swallow Toothpaste
Ideally, you don't want your kids to swallow toothpaste, but it is likely to happen. Make things a bit safer by starting them out with a fluoride-free option (training toothpaste) while they get the hang of proper brushing and spitting. 
What happens if they swallow it? 
A little bit here and there is not likely to have much effect on your child. However, ingesting too much toothpaste can lead to a stomach ache as well as some potential vomiting. Seek medical attention as necessary.
Using the Right Amount of Toothpaste
Having a mouthful of foaming toothpaste can be hard to handle when you are young and just learning the ropes. And for many kids, it is easy to accidentally swallow before spitting the rest out. Since not using toothpaste at all just isn't an option, what can you do? 
Always use the right amount which is a pea-sized amount of toothpaste (a little goes a long way). Showing them what they need will not only teach them how to properly use toothpaste, but it will make it less overwhelming for their mouth.
Tips to Keep Your Child From Swallowing Toothpaste 
Swallowing little bits of fluoride-free toothpaste from time to time is not that big of a deal, but it is definitely something you want to take steps to try and avoid. Helping your child develop the right brushing techniques can reduce the chances of this happening.
Try these tips:
Practice makes perfect — so have your child practice brushing and spitting.  Children normally learn the spitting reflex between the ages of 3 and 4.

Use fluoride-free toothpaste, only include fluoride when it is age-appropriate or when recommended by your pediatric dentist.

Monitor your child as they brush their teeth. This can be a time of bonding while you also ensure they are getting through their oral hygiene routine without swallowing any toothpaste.
Most importantly, be patient with your child. What may seem second nature to us as parents is a whole new lesson for your child. Once they get the hang of it, they are sure to stop swallowing any toothpaste at all. 
Learn More About Preventative Dentistry
Preventative dentistry is a major part of every dental routine. 
At home, parents are tasked with teaching little ones how to make sure they get their teeth clean without swallowing too much toothpaste. 
At Pediatric Dental Care of Memphis, we offer many different preventative treatments, such as oral examinations, dental cleanings, fluoride treatments, and more. Our gentle dental team will even help teach you and your child the best way to clean their teeth. 
Set your child up for a lifetime of successful dental health. Contact us today at one of our two convenient locations so we can partner with you in your child's care. Or, request an appointment online. 
Recent Posts
Contact Us
Pediatric Dental Care of Memphis
6611 Kirby Center Cove
Memphis, TN 38115
717 S White Station Rd #7
Memphis, TN 38117